Slate is a very popular choice for floor tiles due to it being hard wearing with a relatively low porosity making it more stain resistant. Some property owners opt for darker Slate, while others prefer wonderful multi-coloured Slate, such as that used in this kitchen in Datchworth, a small village in between the towns of Herford, Stevenage and Welwyn Garden City.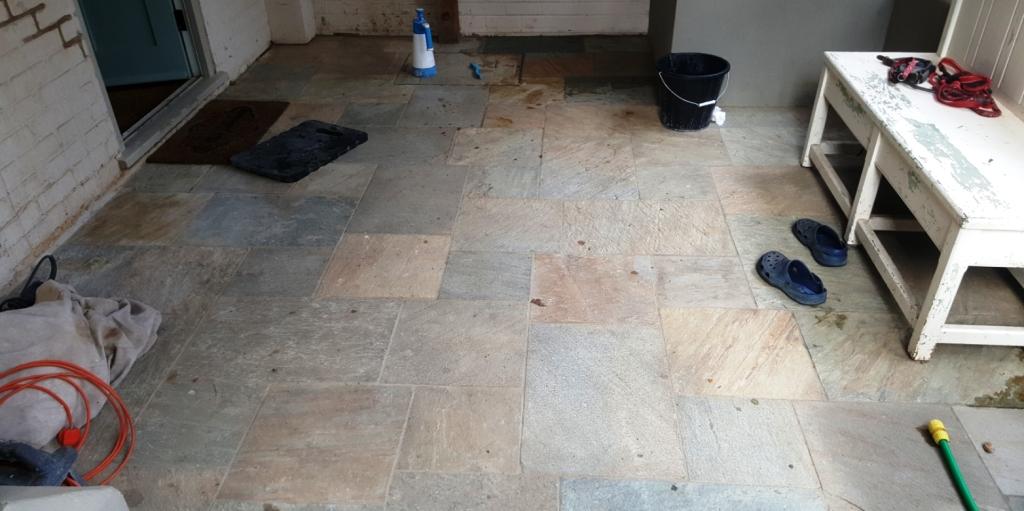 What can be said for certain is that no-one likes a dull looking and dirty floor! Unfortunately, Slate tiles can easily lose their lustre if not treated to routine maintenance. This customer felt that her Slate tiles, which covered the kitchen, utility room and a child's playroom, were well overdue a refresh. Here's what we did.
Cleaning a Slate Tiled Kitchen and Utility Room
We followed our tried-and-tested process for restoring the natural lustre and appearance of Slate tiles.
To begin, we removed any old sealant on the tiles using Tile Doctor Remove & Go, which is both a coatings stripper and cleaning product. The product was applied liberally across the floor and worked into the tiles using a buffing machine fitted with a black buffing pad. Hand-held brushes were used to tackle the fine grout lines. This process removed old sealers and gave the tile and grout an initial clean.
Next, we applied Tile Doctor Pro-Clean, which is our industrial strength tile and grout cleaner which was scrubbed into the Tile and Grout as before to remove remaining ingrained dirt. The resultant slurry was promptly removed using a wet vacuum.
To complete the cleaning process, we steam cleaned the Slate to remove any further residue trapped in the pores of the stone and any trace of cleaning product. The floor was then left to dry off overnight so it would be ready for sealing in the morning.
Sealing a Slate Tiled Kitchen and Utility Room
Upon returning to the property, we ran some quick damp tests, since even a small quantity of moisture can cloud the sealant and damage its performance. Thankfully, the tiles proved dry and we were able to seal the Slate using three applications of Tile Doctor Colour Grow.
This impregnating sealer helps to enrich the natural colours in the stone, while offering a natural-looking matte finish and robust protection. Between each application of sealant, we machine-buffed the surface of the floor to help dry the stone naturally while maintaining the matte finish.
This two-day job was truly transformative for these Slate tiles. Just compare the before and after photos above – the customer was certainly very impressed with the speed and quality of the work. Another satisfied customer.
Professional Renovation of a Dull and Lacklustre Multi-Coloured Slate Tiled Floor in Hertfordshire
Lacklustre Multi-Coloured Slate Tiled Floor Transformed in Datchworth